Ding-Dong goes the church bells, Chirp-Chirp goes the birds, and Clack-Clack goes my spoon scraping up the remnants of last nights Tiramisu. Menaggio is beautiful - no it's more like heaven. The flowers and trees are everywhere and in full bloom. They almost look fake they are so perfect. There is no pollen and the air is fresh.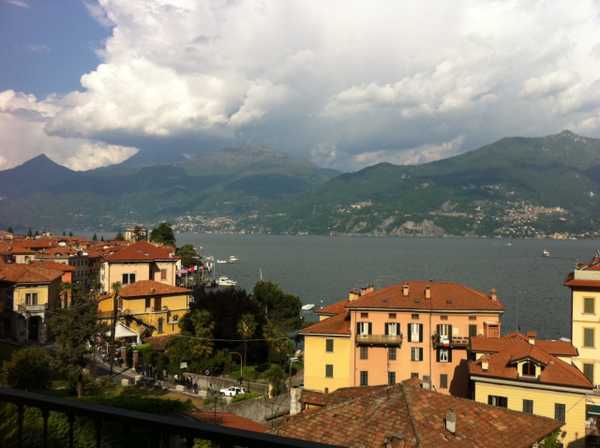 The landscape here is nothing like you would see in the States. You sit on your balcony with the breeze floating over you and fluttering at your face and you feel the sun warming your eyelids as you listen to the sounds of Italy. You open your eyes and instantly they are darting from one beautiful view to the next, unable to rest on one and contemplate it. At first, you look down and see the Tuscan style homes all with flower pots and boxes at every window. Then you see the Grand Hotel Menaggio which is nothing short of grand in its size. Right beyond that down the hill is Lake Como and the Alps rising from it to touch the sky.
The lake constantly has ferries going across it from Verenna to Belaggio and back. It's a beautiful place, where on our morning stroll after breakfast we stopped to watch a pair of swans and four of their young swim for the bread someone was throwing. It is truly a place where you can forget your worries, responsibilities, and all sense of time.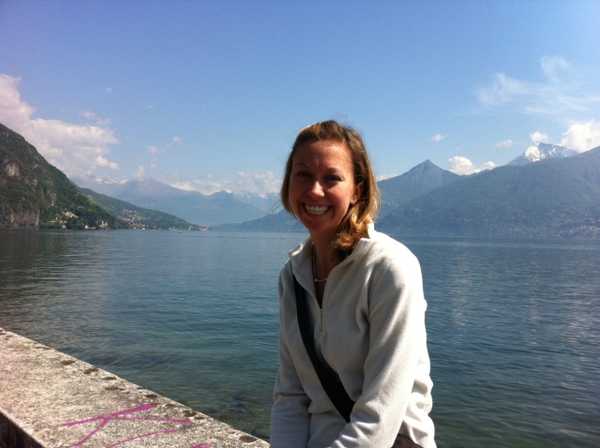 I find myself very timid walking down a few of the streets here as the Italian drivers show no mercy when careening around corners. Once in the piazza, I find I let go of my husband's hand to roam down every narrow cobblestone path I can find. The good man just humors me and follows also learning to love the adventure. On these paths, there are almost always cafes where cappuccino and gelato are found. My smile grows tired from all the adventures and sights we have seen in just the short time we have been here.
A number of hours have gone by and I am very easily forgetting how hard it was to find this piece of paradise. On Friday night, my Dad dropped us off at the airport. Everything was going so smooth, I was crocheting and not even thinking about the long flight. As soon as the flight crew showed up and boarded the plane, my usually very strong and confident husband started to get a touch nervous. Well, more along the lines of incredibly nervous. We were finally called to board the plane and with lots of hand-holding and shoving him into line with me, we were in our seats for the next 7.5 hours. So without anywhere for him to run, we were on our way to London.
We made it to Heathrow airport in London where I experienced Gate A of Terminal 5. The airport is so large that British Airways runs Terminal 5 which has Gates A, B, and C. In each, there are an additional gates of 1-20. So we got off the plane in the middle of nowhere, boarded a bus to take us to the actual Terminal. While there, we found some food, not enough to fill us, and boarded our last flight to Milan, Italy. I passed out finally and woke up drooling an hour later on Greg's only sweatshirt.
Milano, Italy was an eye-opener. Everyone smokes, the fashion here is "anything goes", and everyone drives manual cars and there are many, many motorcycles. You could tell everyone knew we were tourists but who cares. So with one huge duffel bag, two bright, very American, Vera Bradley bags, we caught a bus from the airport to the train station. While waiting we found a bar, in America that's a coffee shop, bought ourselves two amazing chocolate covered pastries and watched the Italians run in, order Espressos, drink them in 3 seconds like a shot, and leave to catch a train. Did I say the people watching is fantastic here?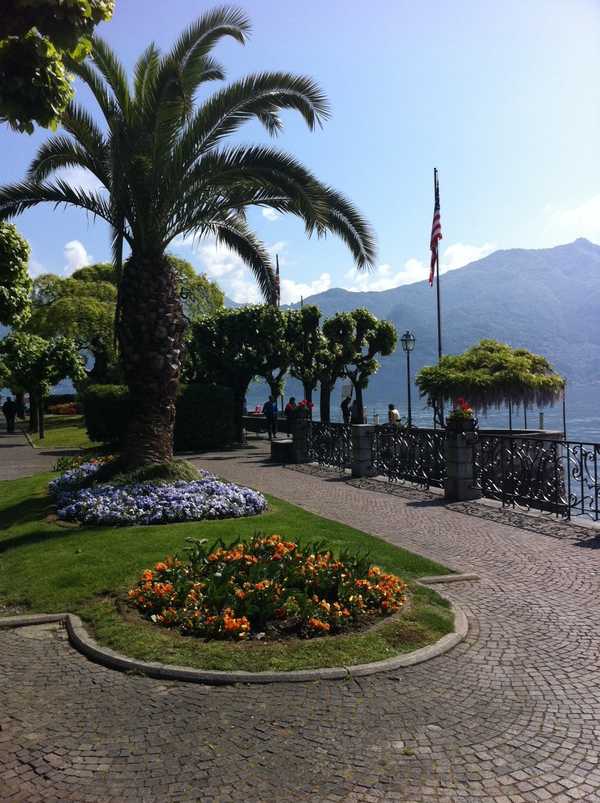 The train ride from Milano to Verenna was relaxing. We had room to spread out and we propped our eyes open with toothpicks so we could see the sights. From Varenna we hiked with our bags and hopefully only a few complaints from myself to the Ferry. The hike was a complete eye-opener for me, never having been here. I think Greg was having fun watching my face and listening to the oh's and ah's I made when I discovered something new. The weather was great! A warm drizzle to wash our dirty faces, fresh air that surrounded us with the scent of a thousand flowers and a beautiful lake in front of us dotted with small Italian towns along the coast. At this point, amidst the weight of our bags, my heart was leaping for joy. The minute I walked down my first cobblestone street lined with wildflowers growing out of the walls, I knew I was in love with Italy!
We boarded the ferry to Menaggio and ten minutes later we were hiking up the hills to our villa apartment. We were introduced to our landlord in broken English (better than our male italiano!) and she showed us around the place. We immediately opened all the windows just so we could be closer to the view. She showed us the washing machine, they must do laundry every day for the size of it. I ran to the bathroom and after 50 seconds, of deciding which was the toilet or badei, I was glad to see I chose correct. Only to take another 50 seconds to find the flusher, as a huge square button on the wall, but boy does it flush. Definitely beats American toilets in that sense. I am adjusting to European bathrooms well except for the showers. Really not loving the fact that you don't have a shower head connected to the wall above your head. It makes showering very quick.
Back to our journey, food or sleep was our next decision and thankfully food won out. We dropped our bags and walked down the street to the same pizza place that Greg went to five years ago. He said nothing has changed and we both enjoyed our own personal pizza and a half bottle of wine.
While on this vacation, my goal is to find the best tiramisu, so I started only after arriving two hours later. Unfortunately the wine and lack of sleep hit us a little too soon and we took the tiramisu home. It was too delicious and left us both waiting to have the next piece after dinner tonight.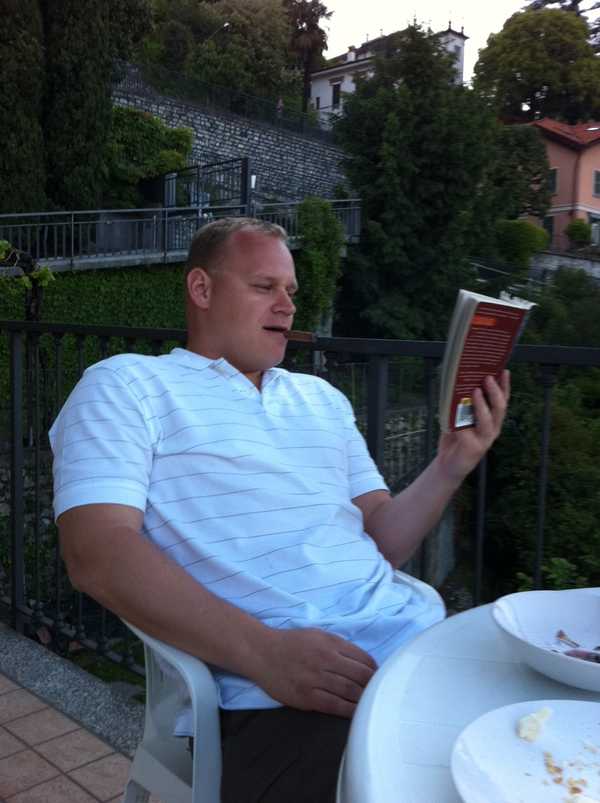 After our stroll this morning with my first Italian cappuccino under my belt, we wandered upon a soccer game which was interesting to watch. The Italian women were screaming and shouting loudly and quickly in Italian and the men just staring. Watching the goalkeeper aim for the top of the Alps and kick away made us think there must be so many beautiful places just like this we haven't seen yet. Greg and I both having played in high school, were itching to run on the field after it was over and play ourselves.
Well, I have learned so far that Italians try to live by the motto "dolce far niente". It is sweet to do nothing. I have decided to adopt that motto as my own for the next two weeks. We already started cocktail hour at 1pm because we saw our neighbors down the hill doing that and laying in the sun. So far, I have both things covered and am "sweetly" enjoying it.
So, needless to say, there is so much to explore here. Including the clackity-clack of the women's high heels on the road down the hill, the bzzz of the Vespa's below our bedroom window, and the lapping of the waves against the walls of Menaggio.