We have started the second leg of our journey today and it is proving to be everything we thought it would be. We sadly left our cozy villa in Menaggio and headed out for breakfast. We drove down the lake to Argegno where we found a cute pastry shop and managed to snag a few of their specialties.
The little shops here in Italy never cease to amaze me. There is always the same shopkeeper running out to take your order, tablecloths on every table, and everything is served on a tray. It's really great! There are always groups of the "regular" Italians who bring the paper to read and the tourists like myself who do nothing but people watch. I will admit when I get home I will really miss service like this.
We hopped back into Neil's right hand drive Ford Focus, which he is driving from the right side of the road, and continued on our journey. We stopped at an interesting rest stop near Milan. We are guessing that two huge coach buses full of Germans or Dutch must have stopped because it was mobbed. We quickly filled with petrol, as the Brits say, and were back to it. The plan was to look at the map and stop for the day in any town that had a star on the map.
Our tummies were growling and my head was nodding in the back seat so we stopped. We had just arrived at the Italian Riviera and I could smell the suntan lotion the minute we stepped out of the car. I was in heaven and had completely forgotten about my hunger. I was just yearning to see the beach and have the sand running through my toes.
We had lunch rather quickly as our seats were in the sun and we were baking. We are not used to seeing the sun or dressing for its warmth. Uncle Neil, as he has dubbed himself, took me by my hand to see the beach. I will admit I was mildly disappointed when I saw that there was no sand on these beaches but pebbles. Although it didn't seem to bother anyone as there were lots of speedos and itsy bitsy bikinis enjoying it. The town was great so we thought we would find a room and enjoy some of the beautiful sunshine.
Our hotel is built on the side of a hill overlooking the Mediterranean with only olive and orange trees blocking our view in some spots. The gardens are lovely and the pool is perfect for sunbathing. I spent about four hours out there today making sure. We even stayed at the hotel for another delicious dinner and after dinner drinks.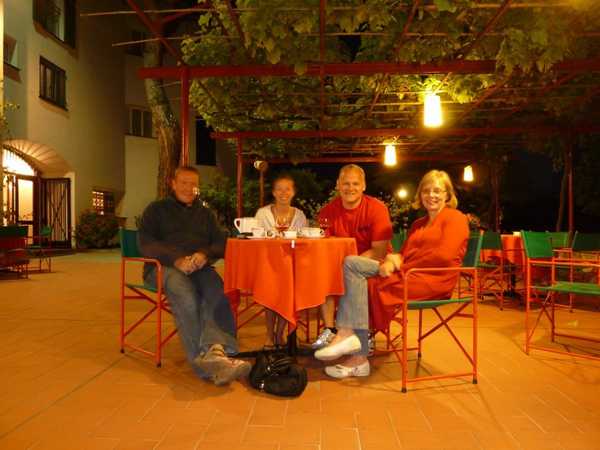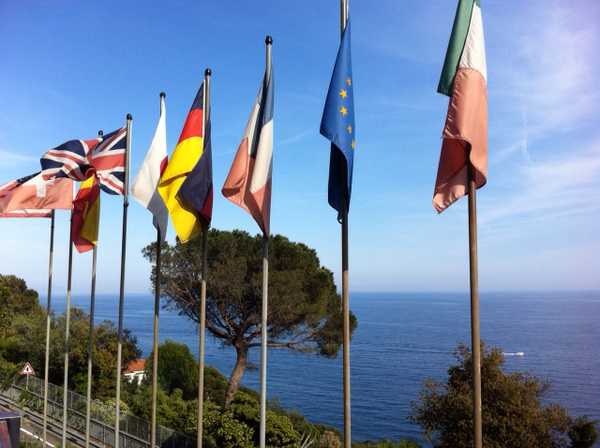 Our last day in Italy is tomorrow and then we will be in France for the next few days. The plan is for lunch in Monaco and then stay somewhere near Cannes. Maybe we will see some celebrities too. I have a feeling we will just do lots of sports car watching as they are known to drive all around Monaco. I will most likely have my eyes shut and my face pointed towards the sun with the same smile that Greg will have from seeing another Lamborghini or Maserati. We will probably both feel like we are the happiest people on earth at that moment.
So far we have learned two great lessons on our trip. One is that life is too short and you must live in the moment. This means if you have the opportunity to travel to Europe or anywhere for that matter, you must take it. The offer may be off the table the next day and you never want to regret not doing something. And secondly, that traveling around with your best friend at your side who can read your mind really is the most fun way to explore places. Especially if he keeps buying you gelato.