So as you can guess we did survive our dinner at the French tiler's house. Although the next day I didn't fare so well. We were able to understand quite a bit as French and Spanish sound reasonably the same and the topics were very basic. Weather, food, transportation…Although it was very interesting when they tried to ask us if we liked Obama.
The food was something else though. It started out with drinks, as every good meal does. They brought the whole bar to the outside dining area because it was too hard to translate rum, whiskey, and vodka. Then Stef and Laura, the couple who were having us for dinner, had invited some other members over for dinner too. It got a little more interesting as neither Greg nor I knew how to greet people in France. We learned that when you first meet a man you shake hands, a women you air kiss on both cheeks. After you have had dinner with them you are expected to kiss everyone. Its very nice but takes quite a while.
The second course was egg salad and tomatoes and mozzarella. Enough to be the main course but as we learned quickly in France there is never just one course. Stef has a huge german shepherd that is incredibly intimidating at first sight and had me very frightened. But when I saw that it really couldn't hurt a fly and was trained extremely well I was comfortable. Greg saw me get quite comfortable and thought for a brief moment that I would actually like to get a dog that big. I think he also learned quickly that I would never want a dog that weighed more than me.
I was sufficiently full from my tomatoes and mozzarella until I saw the third course. Two huge platters of beef and chicken and rice dish served with dates and figs. At this point, I knew we were both in for it. Never having eaten true French cooking before, it was going to be a long night. Eventually this was followed by cheeses which was probably my downfall - I had no idea that some of the pasteurization processes in France are different in the states. Meaning they don't quite process them as well or as much as we do, or even at all. Needless to say I was up that next morning with the roosters with a horrible stomachache and a terrible fear of driving in the car for the next five hours on windy roads to Barcelona.
After the cheese course was fruit, strawberry surprise and then after dinner "digestifs". All of these courses were coupled with wines. Very delicious I must add. But if I had to do it all over again I would definitely skip that cheese course. I didn't eat the whole next day and spent five hours in the back of the car with my eyes shut and a churning stomach. At this point, I really did want to go home and curl up in my own bed.
We arrived in Sitges, Spain which is an hour south of Barcelona and it is beautiful. Apparently it is a gay and lesbian friendly area which we noticed on the beach yesterday. Our farmhouse is truly quaint. There are five bedrooms, five bathrooms and all have separate wings of the house. It has a beautiful outside covered dining area situated next to a pool and six lounge chairs. Perfect. We met Neil and Sue's daughter, Liane, and her boyfriend Tom here and are having a ball. Tom has never been to America and I have never been to the UK so we are having a blast asking each other the silliest questions. Apparently when Tom comes to the States in November he wants a Big Gulp, Twinkies, a real Cheeseburger, and to drive in Greg's "very large and pimped out" Pathfinder. We have to laugh and feel quite ashamed at the same time. I hope we can show him a few things around the area instead of just feeding him the whole time.
"The kids" went to the beach yesterday and it was just what we had been waiting for. First, it was a sandy beach. Second, the water was warm. Third, it was so sunny. We found a great spot and laid down only to attract a huge group of American study abroad students from the University of Chicago to lay in front of us. They were going on for a while in English talking about how much partying they did the night before quite loudly only to discover a little later that we spoke English too. That quieted them down rather quickly and our solitude was back.
Greg and Tom kept saying they had their eyes shut the whole day but I know for a fact Greg never turned one page in his book. Something unusual I know. He must have been staring at the men in their tight little speedo's.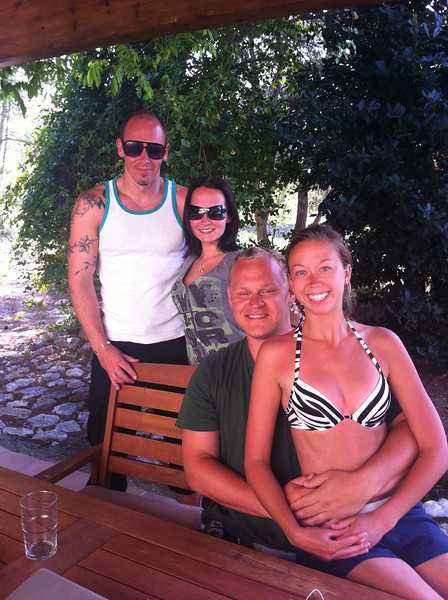 Greg has been without internet for two days now and I think he is ok. The first day didn't go so well but now he knows that he is going home tomorrow and he will have internet access wherever he goes. I am also thankful as he might relax a little more.
Speaking of going home. We can't wait. I am probably a bit more impatient than he is. I do miss it and all of you. Here in Barcelona with the sun to enjoy it makes me a bit less homesick but I am desperate for my bed, my kitchen to cook in, and my closet full of organized clothes. I am so tired of living out of a suitcase. Vacations for two weeks are theoretically great but when you get down to it, it might be a little too long. So see you all on the other side of the pond and much love. Please pray that my husband finds it much easier to get on the plane than before.